RUBLOC - INSULATION PAD
---
A 18 mm thick rubber plate that comes in three different types soft, medium and hard.
Soft type
passive insulation:
Protection of sensitive instruments and devises.

active insulation:
Placement of light foundation blocks or floating floors on anti-vibration sheets cut into smaller pads. Insulation of compressors, pumps, mounted on small concrete blocks, ventilators, electricity stations, alternators, blowers, generators etc.
Medium type
active insulation:
Insulation of heavy foundation blocks or floating floors (use of small pads). Installation of all kinds of lathes and machine-tools, light presses, heavy compressors, textile machines, printing machines, metal and paper shears, energy power units, drilling machines, gas and steam turbines, punching, milling, sawing machines, plastic injection moulding machines, woodworking machines, generators, overhead crane insulation (rails) etc.
Hard type
active insulation:
Identical applications as for the medium type, but with higher resistance to pressure. This highly resistant hard quality sheet provides a slightly lower insulation capacity. For installation of heavy machines such as presses with a high level centre of gravity, which could generate horizontal oscillations. For mounting of surface grinding machines, planers etc, which require precise horizontal stability.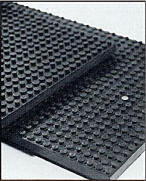 RUBLOC - Pad
Installation
---
The RUBLOC Pad and and the RUBLOC Trisolator is easy to cut to desired shape. A knife can be used to shape the softer once but for the harder types a power saw must be used.
---